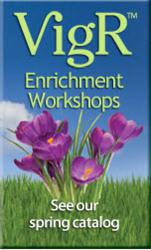 Plymouth Meeting, PA (PRWEB) March 16, 2012
Friends Life Care, a non-profit Pennsylvania-based organization that provides unique long term care solutions, is proud to announce the addition of three new workshops to their Spring 2012 VigR Enrichment learning series.
At Friends Life Care, they believe a combination of vitality, independence, growth and resilience (VigR) is required to stave off the effects of chronological aging. Thats why theyve created this program to help participants understand and improve these four essential factors. With the aid of recent grant monies, the spring VigR Enrichment Workshops are being offered at a very affordable price, making them available to a wide audience.
We are so pleased to be able to provide this caliber of instructor and content to our community, Friends Life Care President Carol Barbour said. Last years participants were extremely satisfied and left clamoring for morethis springs line up will surely fill to capacity very quickly.
The Spring 2012 workshops: